INTERCAMP TOURNAMENT PROGRAM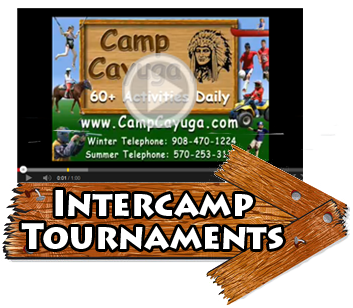 HEALTHY COMPETITION
Cayuga's Intercamp Tournament Program is popular with our campers who enjoy competing in their favorite activity. Even though Camp Cayuga is noncompetitive in nature and philosophy, healthy competition does find its way into the daily activity program on a voluntary basis through our Intercamp Tournament Program. Each summer we schedule over 120 different tournaments! Cayuga's Intercamp Tournament Program is a great way to add a little "spirit" to your summer and widen your travels as well.

VOLUNTARY
Since there are no "try-outs" at Cayuga, all campers are eligible to participate in any tournament of their choice, regardless of their athletic ability. To compete in your favorite activity, all you have to do is sign up for the team at camp. The Intercamp Tournament Program is voluntary so you can sign-up for as many teams as you wish or no teams at all. Emphasis is placed on sportsmanship and having fun, rather than winning. However, our record includes more wins than losses!


STAFF
The Intercamp Tournament Program at Cayuga is supervised by the Athletic Director who is a professional educator and coach. Our team coaches have been selected for their experience in the sport as both a competitor (player) and a teacher (coach).


TOURNAMENTS
Team-practice time is scheduled for intercamp tournaments during the daily activity program. Most tournaments are organized by camper grade and gender. Some tournaments are coed, such as our sailing regattas, horse shows, and archery matches, to name a few. About 50% of our tournaments are scheduled as "away games". This affords our campers the opportunity to travel to other neighboring camps in Wayne County. The remaining tournaments are scheduled as "home games" which take place at Camp Cayuga.


TEAMS
Cayuga offers an Intercamp Tournament Team for every popular land and water sport, including "team" sports and "individual" sports. Last summer, we organized teams for the following sports:
| | | |
| --- | --- | --- |
| * Horse Show Team | * Swim Team | * Softball Team |
| * Baseball Team | * Kickball Team | * Volleyball Team |
| * Newcomb Team | * Track Team | * Golf Team |
| * Floor Hockey Team | * Wrestling Team | * Dodgeball Team |
| * Basketball Team | * Archery Team | * Badminton Team |
| * Ping Pong Team | * Soccer Team | * Tennis Team |
| * Water Polo Team | * Street Hockey Team | * Dance Team |
| * Field Hockey Team | * Ultimate Frisbee Team | * Paintball Team |
| * Flag Football Team | * Gymnastics Team | * Riflery Team |