First Time Camper Guarantee
OUR SPECIALTY - THE FIRST-TIME CAMPER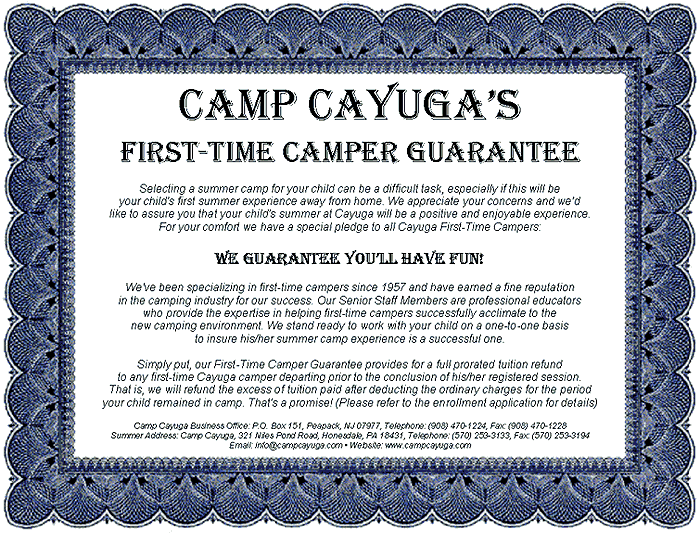 Living away from Mom and Dad can be difficult at times, but it's something we all must experience in order to fully develop as a mature person. Residential camping offers the first-time camper the perfect opportunity to tackle this hurdle in life. Our camping experience with first-time campers has provided us with the knowledge needed to help the new camper successfully acclimate to the new camping environment. Time and personal attention are given to make the children feel at home. In such an atmosphere, youngsters become more self-confident, and sportsmanship & comradeship flourish. Our entire staff is recruited and trained with this objective in mind. We're committed to the happiness of our youngsters and we stand ready to offer the understanding and special attention first-time campers require. It is truly a rewarding experience to guide a camper as he/she learns the pleasure of playing and working in cooperation with others. Helping the camper develop his/her own individual talents and independence is what we do best!

OUR GUARANTEE TO FIRST-TIME CAMPERS
Selecting a summer camp for your child can be a difficult task, especially if this will be your child's first summer experience away from home. We appreciate your concerns and we'd like to assure you that your child's summer at Cayuga will be a positive and enjoyable experience. At Cayuga we are so confident in our staff & program, WE GUARANTEE YOUR CHILD WILL HAVE FUN! Simply put, our First-Time Camper Guarantee provides for a full prorated tuition refund to any first-time camper departing prior to the conclusion of his or her registered session. That is, we will refund the excess of tuition after deducting the ordinary charges for the period your child remained in camp. And that's a promise! (For details please refer to the application form.)

SPECIAL PROGRAMS FOR FIRST-TIME CAMPERS
Since 1957 our camp programs have always operated with the First-Time Camper in mind. Besides the one-on-one attention we provide, we also utilize Special Programs that have been specifically created for the First-Time Camper. These special programs (listed below) have helped us achieve success in Cayuga's First-Time Camper Program, for which we have earned our fine reputation in the camping industry.

OUR STAFF
Our success with first-time campers is directly related to the Quality of our Staff. Each camper is under the care and attention of 2 (or more) college-enrolled cabin counselors and a Division Director, who is a member of our Senior Staff trained in child care. The Division Director, with assistance from the cabin counselors, works directly with our campers. In addition, all Senior Staff members are dedicated and stand ready to work with your child on a one-to-one basis to make his/her summer camp experience a successful one.

CAMPER PROFILE FORM
The Camper Profile Form is completed by you, the parent, prior to your child's arrival at camp. It is used to highlight areas which are of most concern to you. The form is reviewed by our counselors & Division Directors, and directed to appropriate supervisory personnel if warranted by the concerns you highlighted. The Camper Profile Form helps us better understand your summer goals and gives your first-time camper a better opportunity for a positive summer experience. The Camper Profile Form is accessible on-line.

PEN PAL CLUB
First-time campers are welcome to join our Pen Pal Club and correspond via email with other new & returning campers. It's an easy way to make camp friends before camp begins! The Pen Pal Form is accessible on-line. The Pen Pal Request Form is accessible on-line.

BIG-BROTHER BIG-SISTER PROGRAM
Our Big-Brother Big-Sister Program involves our older and more experienced campers from Teen Campus. Under the guidance of the Division Director, these veteran campers volunteer in helping our first-time youngsters "feel at home".

CABIN ASSIGNMENTS
Careful consideration is given when Cabin Assignments are made. Placing the camper in the appropriate cabin is one secret to our success with First-Time Campers. Cabin groups typically include a healthy mix of new and returning campers. Unless otherwise requested, the first-time camper is never the only "new kid" in the cabin.

OPEN HOUSE
New families are invited to attend our Spring Open House. It's the perfect opportunity for first-time campers to familiarize themselves with the camp's facilities. Campers are given tours of Junior Campus and/or Teen Campus and meet some of our staff members. It's an exciting day! For more details about Open House, click here.

TOURS FOR FIRST-TIME CAMPERS
First-time campers, who are unable to attend Open House, are welcome to tour Cayuga at any time. Our Open Door Policy encourages first-time campers to visit. We're proud of our facilities and we love giving tours!

SIBLING CLUB
First-time campers with siblings at camp are encouraged to join the Sibling Club. This Club provides first-time campers the opportunity to spend quality time with their sibling. This support, more often than not, helps the first-time camper acclimate to the new camping environment.

BUNK REQUEST FORM
Some first-time campers attend Cayuga with a friend. If your child would like to be assigned to the same cabin as his/her friend, a Bunk Request Form needs to be completed and signed by each camper's parent. To be bunked with a friend, both campers need to be entering the same grade and enrolled in the same camp session. The Bunk Request Form is accessible on-line.

CAMP REUNION
Camp friends make the best friends! And making friends is what Camp Cayuga is all about. We encourage ongoing "camp chatter" through our website and newsletters. In addition, we schedule a Winter Camp Reunion to provide campers the opportunity to renew their summer camp friendships.

PARENTAL SUPPORT
We also need your help! To insure a camper overcomes his/her feeling of homesickness, it's imperative that we get him/her involved in activities with the other campers. Disruptions in this process revive homesickness and prolong the camper's adjustment period. Impromptu visits by parents and frequent telephone conversations with the camper, in most cases, is a disruption in the acclimation process. Parental Support is needed and very much appreciated!