HISTORY OF CAMP CAYUGA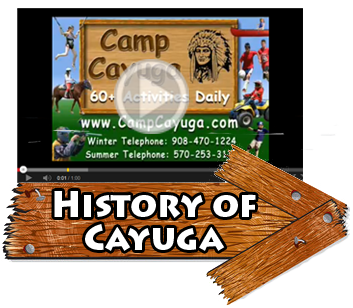 The word "CAYUGA" was selected as the name for our camp because a Native American group known as the Cayuga Indian Tribe had occupied this region, which had been chosen for its rich wildlife and natural beauty. Today, the area still remains rich in wild life and largely retains the natural beauty and charm admired by the Cayuga Indians over 250 years ago.

Camp Cayuga was originally founded by Fred Williams and his wife who owned and directed Camp Cayuga. During these earlier years, Cayuga accommodated 100 boys & 100 girls and encompassed 150 acres of evergreen forest land. Fred Williams built some of the buildings and facilities we still utilize today!

Mike and Arline Buynak purchased the camp from Fred Williams, and over the years, together with their sons developed Cayuga into what is now a Premier Summer Camp encompassing over 350 acres of comprehensive facilities and expansive fields. For over 40 years Mike and Arline had dedicated their careers to Camp Cayuga. Individual attention, concern for each youngster, and a special love of children had characterized their direction from the very beginning. In 1983 Mike and Arline turned over the full-time directorship of Cayuga to their son, Brian.

The tradition of caring for the needs of each and every camper has continued with the second generation of the Buynak Family. We feel a very strong obligation to our youngsters and to you, their parents. We stand ready to do all we can to insure your child's happiness. This includes catering to any special request or need that you or your child may have which will make your camper's summer at Camp Cayuga a more enjoyable and memorable experience.