CAMP PHILOSOPHY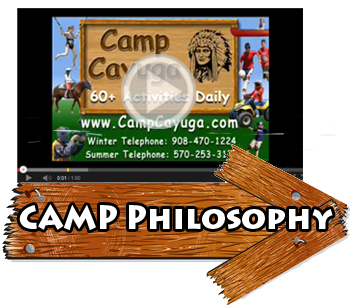 Since our beginning in residential camping (1957), the Buynak Family has promised a safe, healthy, and fun-filled summer for children. But we deliver much more! For over 50 years, we have fostered in children the development of new skills, the sharpening of old skills, the appreciation of nature, and the beginning of lifetime friendships. As we enter this coming season, our camping philosophy remains unchanged. We are committed to bringing children of diverse backgrounds together in a healthy camp environment where the youngster will be given the opportunity and the help to develop artistically, athletically, and socially. Our youngsters will learn the importance of friendship, independence, and cooperation with others - all of which are instrumental in a child's development. Camp Cayuga ... It lasts a lifetime!
OUR DIVERSE CAMP POPULATION
Each summer campers travel to Camp Cayuga from across the United States and from abroad as well. Most of our campers are from the metropolitan areas of New York, New Jersey, Pennsylvania, Connecticut, Maryland, and Virginia. At the same time, we still continue to have a diverse camper and staff population who last summer traveled from 26 different states, such as: Florida, Texas, California, Arizona, Massachusetts, Vermont, New Hampshire, Maine, Washington DC, Delaware, Ohio, Illinois, Michigan, Kentucky, Wisconsin, and North Carolina, to name a few. We also welcome international children into our summer program, who last summer traveled from 17 countries, some of which include: Spain, France, Switzerland, Venezuela, Japan, Dominican Republic, United Kingdom, Italy, Russia, Monaco, and Thailand. It's really interesting to watch these international youngsters as they learn the English language and experience the American culture from their cabinmates. The value of such an exchange can't be underestimated. This is one of the benefits of Cayuga's unique camper population.
RELIGION
Camp Cayuga is a nonsectarian camp with campers of various religious affiliations. Religious services are available and attendance is voluntary. For campers of the Jewish faith, we offer a voluntary lakeside service on Fridays. Christian campers, who are interested in attending religious services, are transported to Honesdale where churches of various denominations are located.