CAMP OWNER & DIRECTOR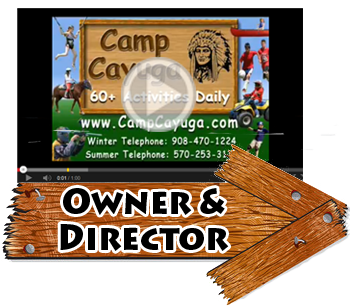 Hi, I'm Brian Buynak, the Owner & Director of Camp Cayuga. Camp Cayuga is "my home away from home"!
I first attended camp in 1957 when I was 3 months old. At that time my parents, Mike & Arline, were the Camp Owners and Directors. Since then, I haven't missed one summer at camp! In addition to being a camper for 11 summers, I've held several different staff positions at camp: Kitchen Helper, Maintenance Crew, Cabin Counselor, Activity Instructor, Waterfront Director, Division Director, Program Director, and Assistant Camp Director. My first-hand knowledge of camp life is reflected in the manner in which I direct and operate Cayuga, including the wide variety of activities, the selection of staff, and the camp policies. I "feel at home" at Camp Cayuga.
Now as Camp Director, I take pride in learning the interests of our campers and insuring that they too "feel at home". I'm the type of Camp Director who really likes to have fun with the kids, but I'm always providing the maturity and leadership that comes with over 30 years of hands-on camp administration experience.
My ACA (American Camping Association) credentials and educational background is as follows:
* Decade-Plus Member of the ACA (American Camping Association).
* Treasurer for American Camping Association NJ Section (1995-1999).
* Bachelor's degree in accounting from the University of Notre Dame (1979).
* Doctorate of Juris Prudence degree from Seton Hall Law School (1982).
* Admission into the NJ Bar Association (1982).
* ACA New Jersey Section Member (since 1984).
CAMPING IS MORE THAN HAVING FUN
During my "camper years", what I enjoyed most about summer camp were the exciting fun-filled activities and the action-packed special events. I can still remember my first horseback overnight, the camp carnivals, the snipe hunt, and my first dance at a social. Camp was loaded with laughter & fun, and from a child's perspective, that's all that mattered.
During my "counselor years" at Cayuga, I began to recognize that the fun experienced by my cabin-group was only the most "visible part" of camping. Being away from parents and the influences of home, the campers were becoming more independent. They were also gaining confidence in their skills at the activities. They learned how to get along with one another and shared the benefits of their toil. It was becoming clear to me that not only were the campers having fun, they were noticeably developing socially, artistically and athletically.
Now in my role as Camp Director, the subtle benefits of camping appear even more visible! I've witnessed the growth of self-reliance as the insecurities of a homesick camper vanish. I've seen how the rewards of achievement strengthen self-confidence. I've witnessed the making of lifetime friendships at camp. And I've seen campers move-up the ranks from Junior to Senior Division... gaining self-esteem along the way.
I recall as a child listening to my parents (who at the time owned & directed Cayuga) discuss how instrumental summer camp can be in the development of a child. As Owner & Director, I now fully understand and appreciate what my parents believed and couldn't agree more! Indeed, "camping" is unlike any other life experience.
Mike and Arline Buynak, my parents, started a great journey in "camping" back in 1957 and I'm very proud to be part of it today. "Camping" has changed in many ways over the years, but there's no question one thing hasn't changed... The Value of Camping! It goes well beyond the visible part of just having fun.
Camp Cayuga is a very special place for kids. For me personally, it's rewarding and pleasurable to share the "camp experience" with youngsters each summer, and I look forward to sharing the same experience with your child this summer.
Camp Cayuga... It lasts a lifetime!
Brian Buynak